How to display Best Warnings
The PVS-Studio analyzer allows the user to easily view the Best Warnings of the analyzer. This mechanism helps you start working with the report simpler and easier. The Best Warnings are the warnings based on our most interesting and "dangerous" diagnostic rules. These warnings are most likely to report real errors.
Mainly, this mechanism helps learn more about the analyzer's features.
The Best Warnings mode does not substitute work with the analyzer full report. The full report may contain messages about potential errors, which also require attention.
Currently, the analyzer's Best Warnings feature only works in Visual Studio. However, we plan to add this mechanism to our other IDE plugins over time.
How it works
The mechanism filters the Best Warnings builds on the evaluation of the analyzer's triggerings. The evaluation follows a number of criteria called weights. Each diagnostic has an initial weight. This weight reflects the probability of the diagnostic to detect a significant (meaningful) error. We assigned the weights to the diagnostics in accordance with our extensive experience with static analysis and statistics we gathered when analyzing various projects. When we adjust these weights, we take into account the following:
the warning level;
the file name and directory name. We look for keywords indicating that the analyzer issued a warning for tests;
how frequent the same diagnostics appear in the project. It helps reduce the number of monotonous warning types;
the number of warnings issued per line of the same file.
As a result, we get a list of "warning-weight" pairs. From this list, the mechanism filters no more than ten "heavy" warnings.
Windows: Visual Studio (C, C++, and C#)
The PVS-Studio plugin for Microsoft Visual Studio is conveniently integrated into the IDE. This plugin allows you to run the analysis of the entire solution, specific projects, or individual files. It also supports incremental analysis.
You can access the Best Warnings mechanism in Visual Studio's special window that provides analysis results:


This window appears automatically, for example, when you run a project analysis. If you need to display it manually, then use the PVS-Studio extension settings: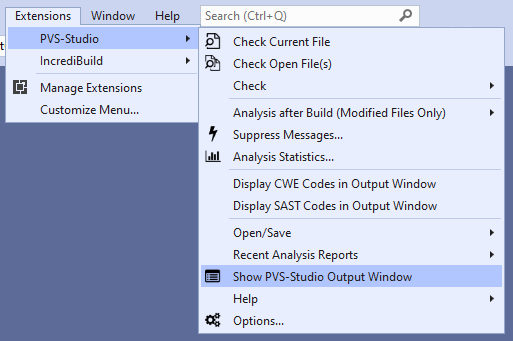 The window itself allows you to navigate through the warnings that the analyzer found. It also allows you to navigate to the code that needs to be fixed. The window also provides advanced filtering and sorting capabilities for you to analyze the results most efficiently. Additionally, you can quickly go to the documentation of selected diagnostics.
To display the Best Warnings, open a secondary menu. Click on the hamburger button in the upper left corner:


In the panel that appears, click its "Best Warnings" button:

As a result, the window shows only the Best Warnings. If you click again, the window shows all the errors that the analyzer found.
Additional links
If you are new user, we also recommend reading the following articles: