We are Cancelling Support for the Embarcadero RAD Studio IDE
We have made a decision to stop supporting the Embarcadero RAD Studio IDE in PVS-Studio starting with version 5.21. The analyzer will no longer be able to integrate into this environment and perform analysis of projects in it.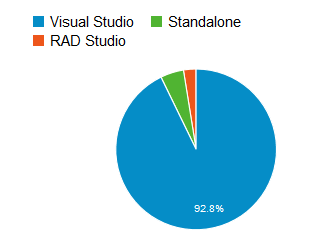 You can still check a project developed in RAD Studio with the Standalone PVS-Studio version though. It can track compiler launches and then run the analysis. To learn more about this mode, see the documentation.
The reason why we are cancelling support for this IDE is the lack of interest from our customers. There are no questions regarding Embarcadero RAD Studio, no suggestions on improvements or bug reports. Nothing at all. Version use statistics also confirm this absence of interest.
Compare the statistics of analyzer launches during the last half-year:
Total: 59023 (100%)
From the Visual Studio environment: 54768 (92.8%)
From the RAD Studio environment: 1495 (2.5%)
Standalone version launches: 2760 (5%)
As you can see, the percentage of people using Embarcadero RAD Studio and launching PVS-Studio from it during the last half-year is just 2.5% of the total number of analyzer launches. Even the Standalone version which we are not striving to popularize makes up 5%.
For that reason, we stop supporting PVS-Studio integration into Embarcadero RAD Studio.